The EU-Japan Business Round Table (BRT) was created in 1999 and is made up of 84 CEOs / senior executives from leading EU and Japanese firms and business organisations, primarily representing large companies, but also representing 17 SMEs and 12 business federations, chambers of commerce or other organisations. Its co-Chairmen are Philippe Wahl (Chairman and CEO, La Poste Groupe) and Nobuhiro Endo (Executive Advisor, NEC Corporation).
The 24th BRT annual meeting took place at the Tokyo Kaikan and online on 15 November 2022. Social media posts and other articles about the meeting can be found on the 2022 annual meeting cuttings webpage.
For a 2-minute guide to the BRT's members, goals, working methods, links with the EU and Japanese Authorities and for archive footage, see this introductory video.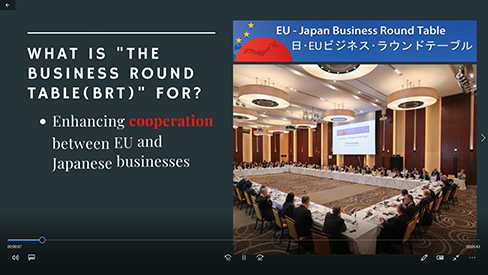 The BRT's main roles are to:
discuss issues of common interest;
review factors affecting trade, investment and other forms of cooperation;
provide an EU-Japan business perspective to both topical and long-term issues of public policy; and,
identify practical recommendations to the Authorities (and support EU-Japan official dialogues) so as to help develop trade and investment between the EU and Japan or together in third countries.
For more on the Round Table please see the main BRT website.
The BRT or its co-Chairs also occasionally issue statements or position papers on issues that it/they would like to address:
On 19 May 2022, the BRT co-Chairs issued a statement (in English and Japanese) on the outcome of the 2022 EU-Japan Summit.
On 03 June 2021, the BRT co-Chairs issued a statement (in English and Japanese) on the outcome of the 2021 EU-Japan Summit, giving their reaction to the outcome of the 27 May 2021 EU-Japan Summit and the content of the Summit's official "Joint Statement" and "Towards a Green Alliance" statement.
On 25 May 2020, the BRT issued a position paper on the challenges posed by coronavirus, steps that it believes can and should be taken and ideas that could help rebuild the EU and Japanese economies. English and Japanese versions of the Position Paper can be found on the BRT website.
The BRT Annual Meeting concludes with the submission of detailed Recommendations to the EU and Japanese Authorities on how they can promote trade, particularly focusing on recommendations for regulatory reform. Each year, the Japanese Government and European Commission react to the Recommendations. EU Commissioners, Japanese Government Ministers and senior civil servants attend the Round Table, to give oral reports and take part in a Q&A session.
The work of the BRT is prepared by the Round Table's working parties. Currently there are working parties on: "Trade Relations; Investment and Regulatory Cooperation; Financial Services, Accounting and Taxation", "Life Sciences & Biotechnology, Healthcare & Well-Being", "Digital Innovation & Mobility" and on "Environment and Sustainable Development".
As the Round Table's secretariat, the EU-Japan Centre for Industrial Cooperation organises its annual plenary meetings and maintains its website.
For more information about the BRT see: http://www.eu-japan-brt.eu