October 26
2021
October 27
2021
EU-Japan Conference | Cities, regions, clusters: on the road to zero carbon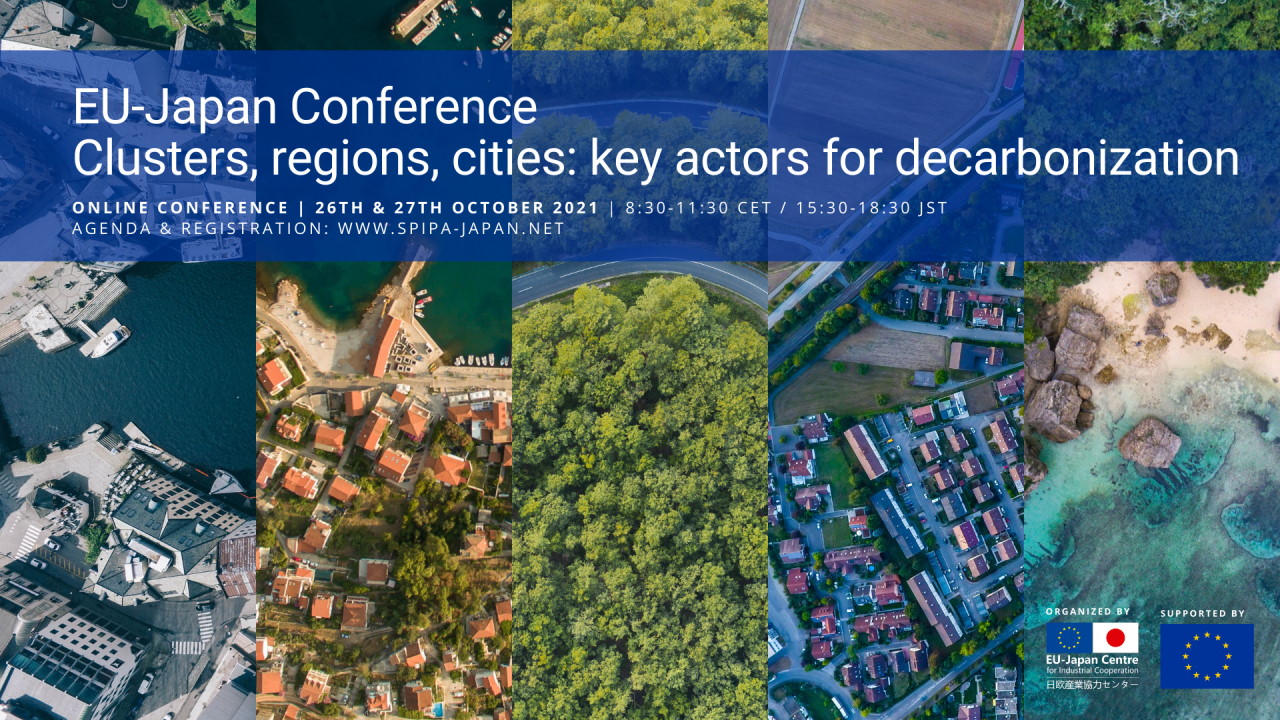 "Think global, act local". In Japan and Europe, local stakeholders – clusters, cities, municipalities, regions, prefectures – are at the forefront of decarbonization. Building on a strong sense of ownership and belonging, local ecosystems are well placed to take and implement initiatives for the green transition. Connected with other local actors both at national and international level, they share experiences and learn from others, expanding the range and scope of their efforts.
Transport, construction, urban planning, local renewable energy, circularity of resources, citizens engagement… In all these key areas for the decarbonization of our economies and societies, Japanese and European regional clusters and local governments already take ambitious and innovative actions. Their efforts also expand to other sectors deeply connected to territories, such as agriculture or tourism.
What are the best practices in Europe and Japan? How do regional industrial clusters contribute to these efforts? What are the existing cooperation initiatives between Europe and Japan at the local level? How can national policies unlock local initiatives, and local initiatives inspire national policies? How can stakeholders from Japan and the EU further cooperate on these matters? 
This online event took the audience into a virtual tour of leading European and Japanese clusters, cities and regions on the pathway towards carbon neutrality.
Day 1 | Local planning, renewable energy, agriculture
Video recording
Opening session
Delegation of the European Union to Japan
H.E. Dr. Patricia Flor, Ambassador of the European Union to Japan
Council of Local Authorities for International Relations (CLAIR), Japan
Mr. Masayuki Nankouin, Managing Director
European Center for Japanese Studies in Alsace (CEEJA), France
Mr. Olivier Becht, President, Member of the French Parliament  
Thematic Session 1: Local planning for decarbonization and energy transition
Using long-term planning, governments from regions and cities in Europe and Japan guide local stakeholders – economic actors, public operators, citizens – towards clean energy and decarbonization. How do they set achievable goals at municipal or regional scale? How do they translate these goals into sectorial guidelines? What mechanisms, from regulations to subsidies, do they use to accompany and accelerate the decarbonization of their territories?
➔  View/download the presentation materials for this session
Nagano Prefecture, Japan |
A carbon-neutral prefecture in 2050 Mr. Takashi Maseki, Director of Environmental Policy Division
Regional Municipality of Bornholm, Denmark |
A fossil-free island region by 2040 Mr. Thomas Thors, Mayor
Toyama City, Japan |
A compact city aiming for zero carbon Mr. Mitsuharu Toufuku, Manager of Environmental Policy Division, Environment Department
State of Saxony, Germany
| Transitioning away from coal Mr. Peter Lucas, Desk Officer, Ministry of Economic Affairs, Labour and Transport  
Thematic Session 2: Mobilizing local renewable energy
Renewable energy sources are, by nature, decentralized. Sun, wind, biomass, geothermal, energy from rivers and seas are geographically distributed across regions in Europe and Japan, placing local actors at the forefront of their mobilization to locally produce renewable electricity, heat and gas. What policies do cities and regions implement to accelerate the substitution of fossil fuels by clean sources of energy? How do industrial clusters and agencies facilitate local innovation for the transition to renewable energy?
➔  View/download the presentation materials for this session
Grenoble Metropolis, France |
Promoting local innovation for renewables Mrs. Anne-Elisabeth Cotte, Innovation Project Manager
Iki City, Japan |
Towards a 100% renewable-powered island city Mr. Kazunori Ogawa, SDGs Future Section Manager
Energy Cork, Ireland |
An industry-driven cluster for clean energy Mr. Kieran Lettice, Cluster Manager
Fukushima Energy Agency, Japan |
An agency for regional energy transition Mr. Yasuhiro Hattori, Managing Director  
Discovery Session 1: Initiatives for a low-carbon agriculture
Important emitters of greenhouse gases, agriculture and the food industry are also part of the solution for carbon-free societies, and essential components of the local economy in many regions. What initiatives do regional actors from Europe and Japan implement for low-carbon agriculture and food systems? How could Japan and Europe further cooperate on this issue?
➔  View/download the presentation materials for this session
Shiga Prefecture, Japan
| A pioneer of low-carbon agriculture in Japan Ms. Tomoe Aota, Director, Agricultural Policy Division, Agriculture and Fisheries Department
Lombardy, Italy
| Innovating for a low-carbon agrifood industry Dr. Raffaello Prugger, Director General Tecnoalimenti, CAT.AL Lombardy High Tech Agrofood Cluster  
Day 2 | Transport, housing and construction, tourism
Video recording
Second day opening remarks
EU-Japan Centre for Industrial Cooperation
Dr. Philippe de Taxis du Poët, EU-side General Manager  
Thematic Session 3: Decarbonizing transport in cities
Reducing the environmental footprint of transport is a major challenge for all cities and regions, as the transport industry has been built on fossil fuels for more than a century. From bicycle-friendly roads to smart public transport, from zero-emission vehicles to shared mobility, how do municipalities, regions and transport operators tackle the CO2 emissions of urban and interurban mobility across Europe and Japan?
➔  View/download the presentation materials for this session
Utrecht City, Netherlands |
The most bicycle-friendly city in the world Ms. Erlijn Mulder, Senior Advisor Strategic and International Affairs
Toyota City, Japan |
Smart multimodal mobility in the city of cars Mr. Kazuaki Yamai, Director of the Future City Promotion Division
Metro Mondego, Coimbra, Portugal
| A route for electric buses on an old railway Mr. João Marrana, President
Odakyu Railway, Machida & Kawasaki, Japan
|
On-demand mobility for lower carbon emissions Mr. Hugues Chataing, Next Generation Mobility Team, International Collaboration Manager  
Thematic Session 4: Low-carbon housing and construction
From raw material procurement for construction to energy consumption during the lifecycle, the housing sector is one of the largest emitters of CO2 both in Europe and Japan. How do local governments steer the construction industry towards low-carbon buildings? How can environmental efforts in the housing sector be combined with social benefits for tenants? What techniques and technologies, from biomaterials to energy efficiency systems, are being developed by local innovators to reduce the carbon footprint of residential and commercial buildings?
➔  View/download the presentation materials for this session
Tottori Prefecture, Japan |
Low-emission houses in a rural prefecture Mr. Shoji Makihara, Planning Officer, Housing and Community Development Section
Wood Industry Cluster, Ljubljana, Slovenia |
Mobilizing wood for low-carbon housing Mr. Friderik Knez, Head of Department
Tokyo Metropolis, Japan |
Expanding zero-emission buildings in the capital Mrs. Toshiko Chiba, Deputy Director for Carbon Policy Planning
Ghent, Belgium
| A one-stop desk for energy saving in housing Ms. Joyca Leplae, Coordinator-Expert, Environment and Climate Service  
Discovery Session 2: Initiatives for a low-carbon tourism
Both Europe and Japan are privileged destinations for local and global tourism. As the world will recover from the pandemic, how do local actors make sure that tourists can enjoy their visits and stay with the lowest possible level of CO2 emissions? How can Japan and Europe work together towards a low-carbon tourism?
➔  View/download the presentation materials for this session
Global Omnium/Visit Valencia Foundation, Valencia, Spain |
Paving the way for carbon-neutral tourism Mr. Juan Luis Pozo Calderón, Chief Sustainability Officer
Niseko Town, Hokkaido Prefecture, Japan |
Tackling carbon footprint of mountain tourism Mr. Kenya Katayama, Mayor  
Closing session
Concluding the conference, two cities recognized for their commitment to decarbonization illustrated how they became local leaders for climate action, paving a way towards carbon neutrality and acting as a role-model for other cities and regions.
➔  View/download the presentation materials for this session
Kyoto, Japan |
Heritage city on the pathway to carbon neutrality Mr. Daisaku Kadokawa, Mayor
Lahti, Finland
| European Green Capital 2021 Ms. Milla Bruneau, Executive Director  
Moderator: Karen Coleman
An award-winning Irish journalist, Karen Coleman has moderated a significant array of events over the years including major international conferences for clients such as the European Commission, European businesses and environmental organizations. Among other events, she worked on past editions of the European Green Week, the European Smart Regions Conference and the Transport for Smart Cities Conference.