JETRO Updates Government Procurement Portal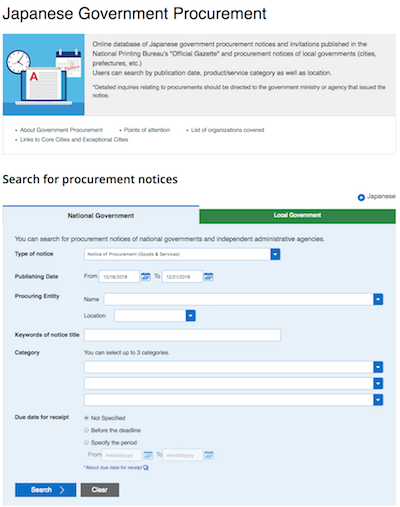 (2018/12/21) The Japan External Trade Organization (JETRO) unveiled its re-designed government procurement portal, which is the main English-language source concerning government contracts offered by central and sub-central government entities.
Although the information offered on the portal has not changed: - It still provides summary notices and invitations taken from the "Government Gazette and procurement notices published by local governments such as designated cities and prefectures, a number of improvements have been introduced.
The search section has received a make-over with a more user-friendly interface, improvements include:
Search results are now listed with the contract title, instead of the category;
Results are presented in a clearer format and provide information such as classification of the goods procured instead of just codes and the date of publishing;
Possibility to switch to the Japanese information easily for each individual notice, providing direct access to the, often more detailed, original information;
Within the search section users can now easily switch between central and sub-central (local) government procurement notices.
Also lists of government organizations covered, both at the central and sub-central government level are provided. The lists also includes local independent administrative agencies which were part of Japan's offer for increase scope in the EU-Japan EPA. Core cities, which will also open their goods and services procurement opportunities to EU suppliers, have not yet been added in the list.
The redesigned JETRO Government Procurement pages are available at https://www.jetro.go.jp/en/database/procurement/