LEAN CAFÉ
Lean Café - sharing lean thinking in a friendly atmosphere
The EU-Japan Centre would like to invite you to join us at our virtual Lean Café. We meet monthly (via Zoom) to discuss and share lean thinking.
Dates for your diary...
Thursday, 17 September from 11:00 CEST (10:00 UK, 18:00 Tokyo):
Lean Café #02 - "Lean Launch - Implementing Lean in a disruptive environment"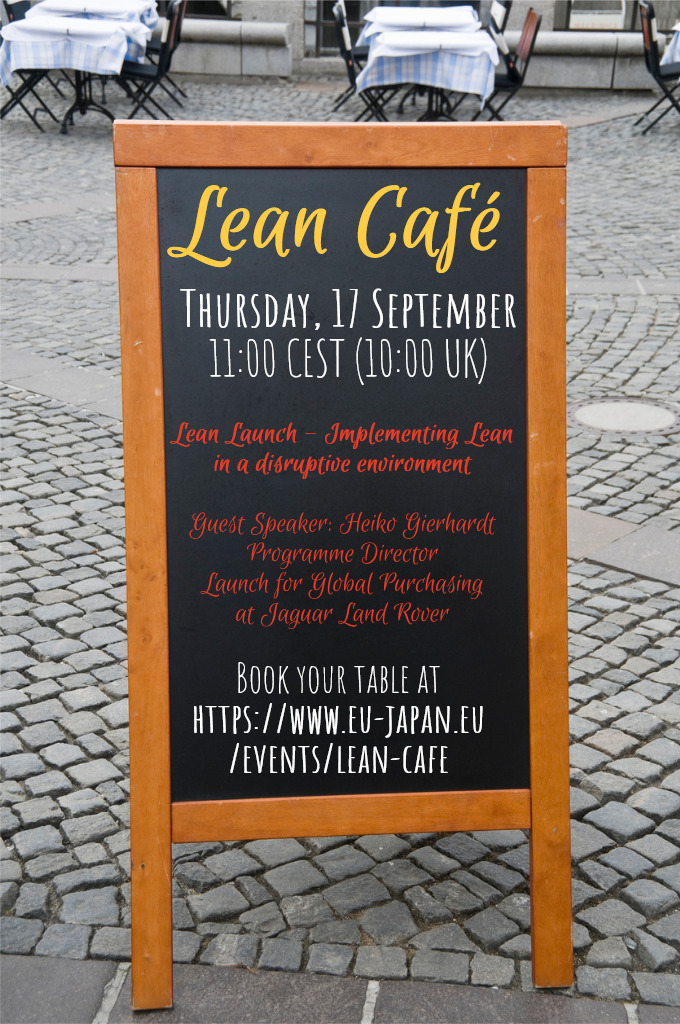 Guest speaker: Dr.-Ing. Heiko Gierhardt, Director Launch - Global Programmes and Operations in Purchasing and STA at Jaguar Land Rover Limited.

Following his presentation on, "Lean Launch - Implementing Lean in a disruptive environment", Heiko will be happy to react to your questions and comments.

All the places for September's Lean Café session have now been allocated.
Thursday, 29 October from 10:00 CEST (09:00 UK, 18:00 Tokyo):
Lean Café #03 - "Show and tell about how the Japanese set up the Gemba"
Guest speaker: Paul Smith, Director, Shinka Management
During the session, Paul will explain how Japanese companies set up the 'gemba', he will focus on visual management and creating awareness between employees.
His presentation will include video clips/photos from factories Shinka Management has visited. The session will finish with an interactive Q&A session moderated by Richard Keegan.

Registration for this Lean Café session will open on 17 September, if you would like to be sent the registration link when it is open, please email us.
How the Lean Café works
Moderated by Prof. Richard Keegan (Adjunct Professor of Lean Operational Excellence, Trinity Business School) - the EU-Japan Centre's Lean Advisor - each Café sitting will begin with a presentation on a specific topic and will continue with a discussion where you can give your feedback, ask questions or share your experiences. (No table service, so please bring your own drink!)

For details of past

Lean Café

discussions please

click here.
The Lean Café is a monthly event,

if you would like to be sent details of our future Café sessions and our Lean in Europe visits, please

email us.
Other resources to help you on your lean journey
Our World-Class Manufacturing course in Japan - week-long training missions, in November, providing an in-depth analysis of Japanese manufacturing methodology, consisting of lectures, workshops and visits to some of the world's most advanced Japanese factories in order to understand the real "Gemba" (production site), talk directly with their production managers and observe the effective implementation of manufacturing methods.
Our Lean in Europe visits - in-depth visits to European plants to discuss best practice, facilitate the sharing of ideas and networking and to inspire their participants along their companies' lean journeys and to provide valuable feedback to the host companies. Currently suspended, we hope to re-start the visits in January 2021.
Our Lean Masterclass - a series of 8 video lectures by Richard Keegan, recorded in 2016 and focus on "Getting things done". In addition to watching/downloading the lectures you can also request copies of the presentation material and various publications written by Richard.
Online