LEAN CAFÉ
Lean Café - sharing lean thinking in a friendly atmosphere
The EU-Japan Centre invites you to join us at our virtual Lean Café. We hold occasional sessions (via Zoom) to discuss and share lean thinking. There are no participation costs, but you do need to sign up in advance. 502 people attended the first 11 Lean Café sessions.
Our next session on Friday, 10 June will focus on addressing supply chain issues and ensuring agile responses in a volatile environment.
The 12th Lean Café will focus on supply chain and agile response issues. TRUMPF is the market and technology leader in machine tools and lasers for industrial manufacturing and provides software solutions to pave the way to Smart Factories, allowing it to implement high-tech processes in industrial electronics. Like many companies, the supply chain that it relies upon has been greatly affected by the on-going crises. This session will address the practical steps TRUMPF is taking to address the current challenges its supply chain is encountering.
TRUMPF is constantly looking to understand and develop best practices for its operations, its people and the extended organisation. SYNCHRO is TRUMPF's lean management system introduced in 1998, covering all its business processes and aims to synchronise the work of its employees with production and the final product.
The Guest Presenter during the Lean Café session will be Philipp Schüll, Head of Order Fulfilment, Member of Management Board BU LT and Interim COO TRUMPF UK. During the session, he will share TRUMPF's current insights and understanding in addressing its needs in what is a highly volatile and uncertain environment including how TRUMPF uses operational excellence, the lessons it has learned, what steps it has taken to ensure that it is more robust and resilient in the future. Both Philipp and Richard Keegan (the EU-Japan Centre's Lean Advisor and Adjunct Professor of Lean Operational Excellence, Trinity Business School) will be happy to respond to questions and comments from participants.
This session is only open to people working for companies or organisations registered in an EU27 member-state or in Iceland, Liechtenstein or Norway. Book your place here.
Lean Café #12 - Addressing supply chain issues and ensuring agile responses in a volatile environment. With Philipp Schüll from TRUMPF Lasertechnik GmbH.

Friday, 10 June: 11:00-12:00 CEST on Zoom. Registration deadline: Monday, 6 June.

Philipp Schüll is currently responsible for the Order Fulfillment at TRUMPF Lasertechnik GmbH + CO. KG and in parallel has the functional responsibility for the global productions in laser technology as well as the direct management of two plants in the UK.

He has been with TRUMPF for 15 years in various roles including operations functions, digitalization topics and in-house consulting in Germany, Switzerland, UK and China. As Head of Inhouse Consulting, he was responsible for several transformation projects including digital transformation, reorganization of the holding company, operational excellence initiatives and group-wide program management
We are currently planning future sessions of the Lean Café and when they are confirmed we will post details of them on this page and also let anyone who has registered with the Café know.
Please let us know if you are open to a discussion about possibly presenting at a future session.
Please register here

if you would like to be sent details of our future Lean Café sessions and our Lean in Europe visits as and when they are arranged.
Past sessions...
Access recordings and presentations from previous sessions in the Lean Café Archive.
The 11 previous Lean Cafés featured Raiffeisen-Landesbank (RLB) Steiermark; Mondelēz International; CNH Industrial; SpoluWorks and Effectivity; Lyreco UK & Ireland; the Irish National Treasury Management Agency; Opex Performance Solutions Ltd; Tetra Pak; Shinka Managament; Jaguar Land Rover Limited and the Toyota Lean Management Centre.
How the Lean Café works
Each Café sitting begins with a presentation on a specific topic and ends with a discussion where you can give your feedback, ask questions or share your experiences.
It is moderated by Prof. Richard Keegan (Adjunct Professor of Lean Operational Excellence, Trinity Business School) - the EU-Japan Centre's Lean Advisor.
The Lean Café is organised on an ad hoc basis,

if you would like to be sent details of our future Café sessions and our Lean in Europe visits, please

email us.
Other resources to help you on your lean journey
The Lean Café is just one of a range of lean activities the EU-Japan Centre offers.

  Find out the connection between lean tools and Japan and learn about our various lean activities in this 4-minute video.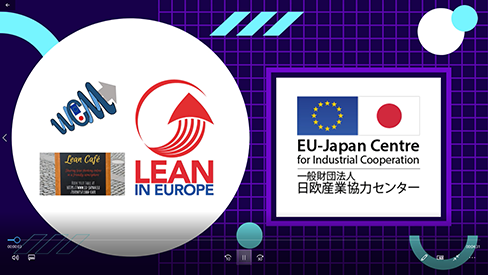 Our World-Class Manufacturing course in Japan - week-long training missions, providing an in-depth analysis of Japanese manufacturing methodology, consisting of lectures, workshops and visits to some of the world's most advanced Japanese factories in order to understand the real "Gemba" (production site), talk directly with their production managers and observe the effective implementation of manufacturing methods. The next WCM mission will take place in March 2022.
Our Lean Masterclass - a series of 8 video lectures by Richard Keegan, recorded in 2016 and focus on "Getting things done". In addition to watching/downloading the lectures you can also request copies of the presentation material and various publications written by Richard.
Our Lean in Europe visits - in-depth visits to European plants to discuss best practice, facilitate the sharing of ideas and networking and to inspire their participants along their companies' lean journeys and to provide valuable feedback to the host companies.

The Lean in Europe visits will restart in Vilnius, Lithuania on 29 & 30 September 2022.
Online