LEAN CAFÉ
Lean Café - sharing lean thinking in a friendly atmosphere
The EU-Japan Centre would like to invite you to join us at our virtual Lean Café. We meet monthly (via Zoom) to discuss and share lean thinking.
Click here to access (where available) recordings and presentations from past Lean Café sessions.
Dates for your diary...
Thursday, 03 December from 10:00 CET (09:00 UK, 18:00 Tokyo):
Lean Café #04 - "Driving lean activities through WCM with a customer-oriented focus, while adapting to the new normal"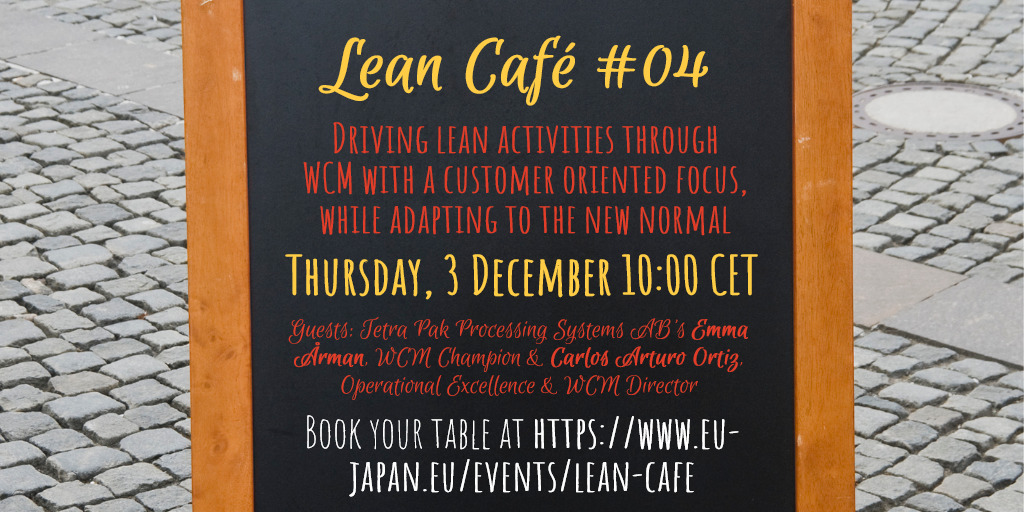 Main guest speakers: Emma Årman, WCM Champion and Carlos Arturo Ortiz, Operational Excellence & WCM Director from Tetra Pak Processing Systems AB.


Following a brief introduction to Tetra Pak, Emma and Carlos will address fundamental aspects of lean and WCM, before explaining lead time reduction initiatives used by Tetra Pak Lund's end-to-end supply chain (value-stream mapping, improvement teams, root cause analysis, makigami). The final part of the presentation will address remote customer validation for Tetra Pak's machines. The session will finish with an interactive Q&A session moderated by Richard Keegan during which Emma and Carlos will be happy to react to your questions and comments.

Book your place now for Lean Cafe #04 via this web-form (deadline: Sunday, 29 November or when the final place has been allocated, whichever is sooner).

How the Lean Café works
Moderated by Prof. Richard Keegan (Adjunct Professor of Lean Operational Excellence, Trinity Business School) - the EU-Japan Centre's Lean Advisor - each Café sitting will begin with a presentation on a specific topic and will continue with a discussion where you can give your feedback, ask questions or share your experiences. (No table service, so please bring your own drink!)

For details of past

Lean Café

discussions please

click here. Previous Lean Cafés featured Shinka Managament, Jaguar Land Rover Limited and the Toyota Lean Management Centre.
The Lean Café is a monthly event,

if you would like to be sent details of our future Café sessions and our Lean in Europe visits, please

email us.
Other resources to help you on your lean journey
Our World-Class Manufacturing course in Japan - week-long training missions, in November, providing an in-depth analysis of Japanese manufacturing methodology, consisting of lectures, workshops and visits to some of the world's most advanced Japanese factories in order to understand the real "Gemba" (production site), talk directly with their production managers and observe the effective implementation of manufacturing methods.
Our Lean in Europe visits - in-depth visits to European plants to discuss best practice, facilitate the sharing of ideas and networking and to inspire their participants along their companies' lean journeys and to provide valuable feedback to the host companies. Currently suspended, we hope to re-start the visits in January 2021.
Our Lean Masterclass - a series of 8 video lectures by Richard Keegan, recorded in 2016 and focus on "Getting things done". In addition to watching/downloading the lectures you can also request copies of the presentation material and various publications written by Richard.
Emma Årman, WCM Champion
Online