LEAN CAFÉ
Lean Café - sharing lean thinking in a friendly atmosphere
The EU-Japan Centre invites you to join us at our virtual Lean Café. We hold occasional sessions (via Zoom) to discuss and share lean thinking. There are no participation costs, but you do need to sign up in advance. 536 people attended the first 12 Lean Café sessions.
Lean Café sessions are only open to people working for companies or organisations registered in an EU27 member-state or in Iceland, Liechtenstein or Norway. 
We are currently planning future sessions of the Lean Café and when they are confirmed we will post details of them on this page and also let anyone who has registered with the Café know.
Please let us know if you are open to a discussion about possibly presenting at a future session.
Please register here

if you would like to be sent details of our future Lean Café sessions and our Lean in Europe visits as and when they are arranged and work in an EU27 member-state, Iceland, Lichtenstein or Norway.
In the meantime, why not "get back to the Gemba" and join us for a physical Lean in Europe visit?
Past sessions...
Access recordings and presentations from previous sessions in the Lean Café Archive.
The most recent Lean Café session took place on 10 June and addressed supply chain issues and ensuring agile responses in a volatile environment, with TRUMPF Lasertechnik GmbH as the featured company. You can watch the session again here.
The 12 Lean Café sessions to date featured TRUMPF Lasertechnik GmbH; Raiffeisen-Landesbank (RLB) Steiermark; Mondelēz International; CNH Industrial; SpoluWorks and Effectivity; Lyreco UK & Ireland; the Irish National Treasury Management Agency; Opex Performance Solutions Ltd; Tetra Pak; Shinka Managament; Jaguar Land Rover Limited and the Toyota Lean Management Centre.
How the Lean Café works
Each Café sitting begins with a presentation on a specific topic and ends with a discussion where you can give your feedback, ask questions or share your experiences.
It is moderated by Prof. Richard Keegan (Adjunct Professor of Lean Operational Excellence, Trinity Business School) - the EU-Japan Centre's Lean Advisor.
The Lean Café is organised on an ad hoc basis,

if you would like to be sent details of our future Café sessions and our Lean in Europe visits, please

email us.
Other resources to help you on your lean journey
The Lean Café is just one of a range of lean activities the EU-Japan Centre offers.

  Find out the connection between lean tools and Japan and learn about our various lean activities in this 4-minute video.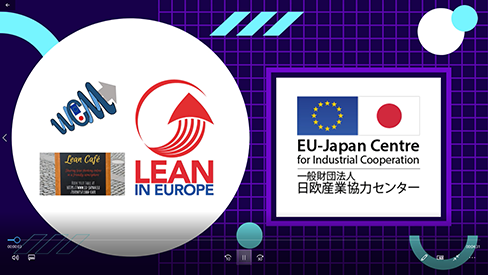 Our World-Class Manufacturing course in Japan - week-long training missions, providing an in-depth analysis of Japanese manufacturing methodology, consisting of lectures, workshops and visits to some of the world's most advanced Japanese factories in order to understand the real "Gemba" (production site), talk directly with their production managers and observe the effective implementation of manufacturing methods. The next WCM mission will take place in March 2022.
Our Lean Masterclass - a series of 8 video lectures by Richard Keegan, recorded in 2016 and focus on "Getting things done". In addition to watching/downloading the lectures you can also request copies of the presentation material and various publications written by Richard.
Our Lean in Europe visits - in-depth visits to European plants to discuss best practice, facilitate the sharing of ideas and networking and to inspire their participants along their companies' lean journeys and to provide valuable feedback to the host companies.

The Lean in Europe visits will restart in Vilnius, Lithuania on 29 & 30 September 2022.
Online