EU-Japan ICT Business Matching Event 2018
On Tuesday 8 May 2018, the EU-Japan Centre organised an "ICT Partnering Event" in Tokyo, Japan.
The ICT Business Matching (https://ict-tokyo2018.b2match.io/ ) took place a day before the "Japan IT week Spring" fair, thus the European companies travelling to Japan were able to participate in both events to maximise business opportunities.
To register, go to: https://ict-tokyo2018.b2match.io/
TARGET FIELDS
Artificial Intelligence (AI)
Big Data Management
Robotic process automation (RPA)
Fintech / Asset Management Solutions
Internet of Things (IoT)
Machine to Machine (M2M) communication
Cyber security
Embedded Technology
PARTNERING EVENT DETAILS
Participation in the brokerage event was free of charge for its participants. A well-established B2B partnering software allowed to search for potential partners online and request meetings up to 2 months before the event. Meetings were automatically scheduled by the software.
Bilingual (English and Japanese) staff support was available on-site.
AIMS AND BENEFITS OF THE PARTNERING EVENT
Benefit from face-to-face meetings leading to possible business opportunities
Establish relationships with potential EU and Japanese partners (trade and technology)
Initiate collaboration between industry associations or cluster organisations
TARGETED SYNERGIES
The Event  was organised at the launch of new joint EU-Japan ICT calls for proposals under Horizon 2020, which opens opportunities for joint projects between European and Japanese partners.
LOCATION
Tokyo, Kasumigaseki Bldg. Plaza Hall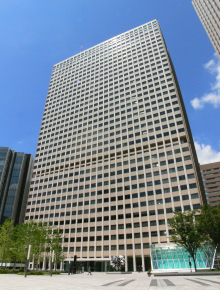 EVENT CAPACITY
50-70 EU and Japanese companies and clusters/organisations
PARTICIPANTS

20 European companies and cluster organisations which visit Japan as part of the ICT mission organised by the EU-Japan Centre
Some European companies and organisations

Additional European companies which plan to attend the "Japan IT Week" or who are present in Japan during the above period.
Japanese companies in the IT sector; exhibitors and visitors of "Japan IT Week", member companies of Japanese Associations and Clusters
Relevant partner organisations (EU and Japanese) involved in the event
ACCESS TO THE B2B ONLINE PLATFORM: https://ict-tokyo2018.b2match.io/
INQUIRIES:
EU-Japan Centre for Industrial Cooperation - info-jp@een-japan.eu - +81-3-6408-0281
Japan