30 Years of the EU-Japan Centre
30 YEARS OF INDUSTRIAL COOPERATION - RESPONDING TO THE CHANGING NEEDS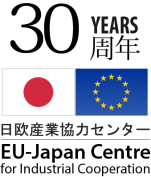 For the past three decades, the EU-Japan Centre has played a significant role as a bridge between Europe and Japan. In relative numbers, since its creation in 1987, the Centre has produced over 2,500 graduates of its managerial courses (including the Lean/Kaizen missions) in Japan and Europe, 900 alumni of the Vulcanus programme, 25,000 participants in 300 policy seminars and over 200 analytical reports and webinars.
We believe the Centre remains as relevant as it was back in 1987, since Japan continues to be a key market and partner for Europe and vice versa. In the same context, the "joint venture" (European Commission/Ministry of Economy, Trade and Industry of Japan) characteristic of the Centre still bears a substantial "win-win" symbolic significance.
This particularity makes the Centre a unique benchmark amongst other business support initiatives established more recently in Asia and Europe.  Nevertheless, we are well aware that we cannot live exclusively on the back of our heritage and the Centre has to continuously evolve, expand and calibrate its mission to the present and future needs of the EU and Japanese industrial and business communities, particularly in the new era to be opened with the likely conclusion of an FTA/EPA.
SMEs AT THE CORE OF OUR ACTIVITIES
With this in mind, in the last five years we have placed the support for SMEs at the core of all our activities since both in the EU and Japan, SMEs are considered as the principal driver for economic growth. We have established many new services and activities such as the Enterprise Europe Network – Japan, the Cluster Support Service, the Tax and Public Procurement Helpdesk, the Step in Japan business incubator, the Technology Transfer Helpdesk, the Minerva Fellowship, the Horizon2020 Contact Point etc. We went even further by exploring the business potential in narrow high tech niches such as Space and GNSS industries.  Through our secretarial support and coordination of the EU-Japan Business Round Table, we have provided meaningful joint recommendations on the industrial and regulatory dialogue as well as on the FTA negotiations process.  We should also not forget the "economic diplomacy" role played by the Centre at a time when the term itself was just beginning to take shape in the EU policy vocabulary.
With 30 years of experience, we believe the Centre has reached a new level and it is ready to engage in more complex support missions in the post FTA/EPA era, for an ever-closer economic partnership between the EU and Japan.