EPA Helpdesk Webinar 11: Services Domestic Regulations and Mutual Recognition Agreement
26-11-19 | 10:30 - 11:30 AM CET
As a professional service provider, where can I find the information to do business in Japan? Is it necessary to have my professional qualification recognised?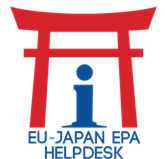 Even if you already export to some FTA-countries, you will need specific information if you intend to have trade with Japan as the EU-Japan EPA is very different from the other trade agreements concluded by the EU.  This presentation will present you what to start with, and will put the focus on the main differences with former agreements. In addition, this webinar will analyse the best and the easiest way to put into practice the EU-Japan EPA and will also provide some useful links with trustworthy informationThis webinar will deal with professional services (architects, accountants, engineers, lawyers, doctors & nurses, etc.) providers that want to export or do business in Japan, either through electronic commerce, temporary mobility in Japan, or through local investment via the establishment of an office or a n-joint venture with a local partner.  This webinar will look at the provision in the agreement for all these issues. In particular, we will explain what does the agreement contains as obligation for the Japanese Government and sector specific regulatory bodies in terms of transparency of the legislation and regulation.  This webinar will also look at what the EPA contains for the possibility to recognise the qualification of the European professional services providers. We will also try to provide some information on where to find further material.
This webinar is part of a series of webinars by the EU-Japan EPA Helpdesk. Each webinar will address a different topic or sector and will look at the changes the EU-Japan Economic Partnership Agreement will make and the opportunities it will create. Each webinar will be accompanied by a factsheet and a practical guide. For more information on the EPA Helpdesk please click here.
The webinar was targeted to EU services companies seeking to export to Japan or to establish in Japan, in particular the professional services sectors (architects, accountants, engineers, lawyers, doctors, nurses, etc.).
Topics covered:
Is it possible for professional services providers to get access to the Japanese market?
What point in the EU-Japan EPA concerns the Mutual Recognition of professional services qualification?
Is it possible that my qualification will be recognised? How?
Where shall I find more information for my concrete case?
Do I need a business visa to work in Japan? What are the commitments in the EPA on the issue of mobility of professionals?
Speakers: Pascal Kerneis, Managing Director - European Services Forum
Organiser: EU-Japan Centre for Industrial Cooperation - Brussels Office
To Register please click here.