EPA Helpdesk Webinar 4: EPA provisions on Geographical Indications
What are the EPA opportunities in Japan for EU GI-protected products?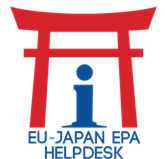 The EPA guarantees registration and protection for more than 200 EU GIs for wines and spirits and food-stuffs, including beers, and the possibility to add new GIs in the future.
This webinar is part of a series of webinars by the EU-Japan EPA Helpdesk. Each webinar will address a different topic or sector and will look at the changes the EU-Japan Economic Partnership Agreement will make and the opportunities it will create. Each webinar will be accompanied by a factsheet and a practical guide. For more information on the EPA Helpdesk please click here.
The webinar was targeted to European SMEs seeking to export GI protected products to Japan.
Topics covered:
EPA opportunities as regards GI protection in Japan
Difference between GI protection under the TRIPS and EPA
Speakers: Yvan Van Eesbeek
Organiser: EU-Japan Centre for Industrial Cooperation - Brussels Office