September 29
2022
September 30
2022
LEAN VISITS IN EUROPE
| | |
| --- | --- |
| | The EU-Japan Centre is re-starting its in-depth site "Lean in Europe" visits to European plants to discuss best practice and facilitate the sharing of ideas and networking. |
The first visit in this new series of visits will take place on Friday, 30 September and will be to PakMarkas in Lithuania. A prep meeting and group dinner will be held on the evening of Thursday, 29 September.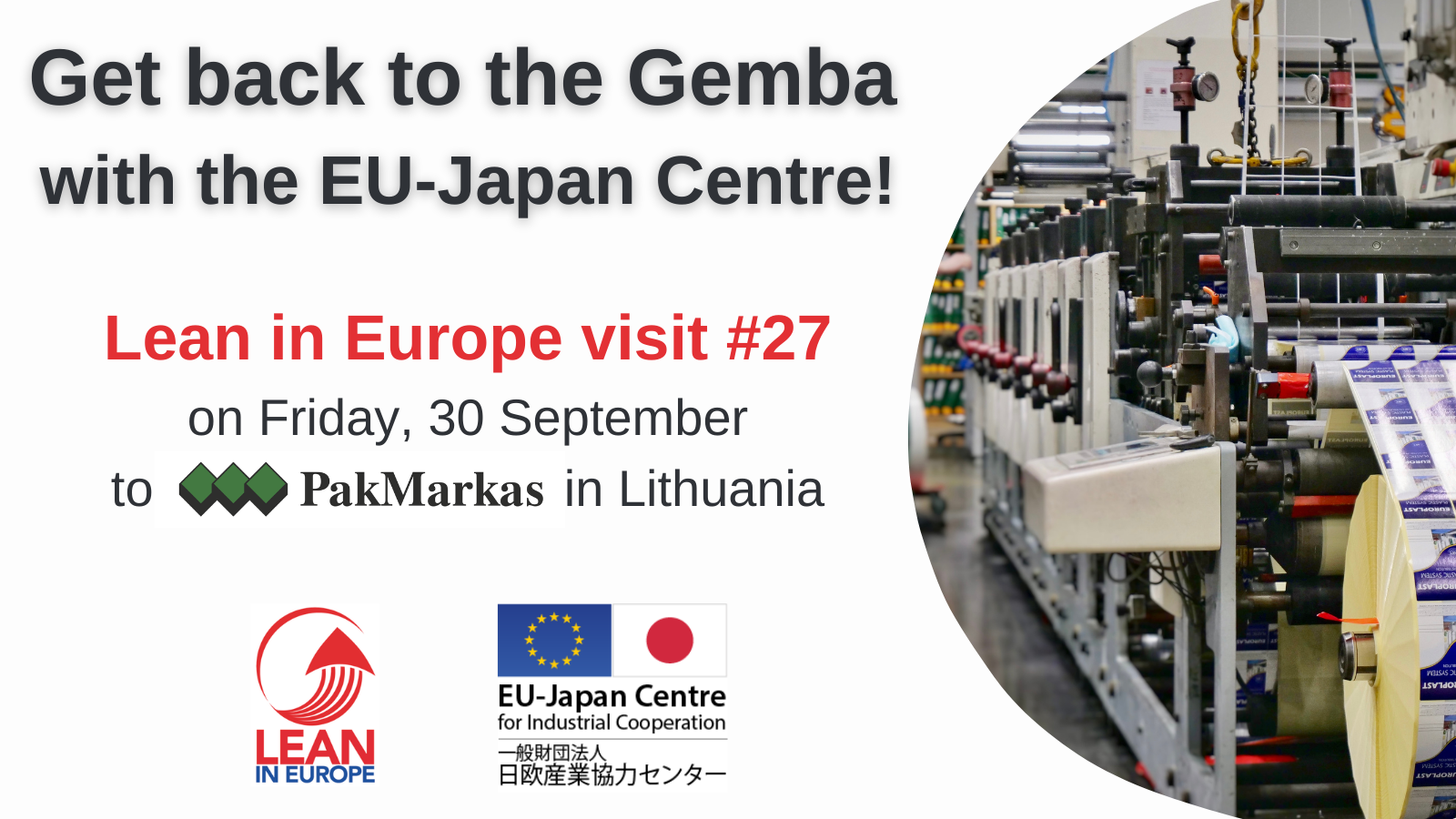 Click for full details of the PakMarkas visit

Registration for this visit has closed
Please note that these Lean in Europe visits are on site, NOT online. They are designed to inspire the participants along their companies' lean journeys and provide valuable feedback to the host companies.
Each visit includes:
On the first evening

Preparatory group discussion or lean activity
Networking group dinner

On the second day

Introduction to the host company, its 'lean journey', its use of process optimisation, lean management tools and - where relevant - AI/IoT to drive its business forward
'Gemba' visit with explanations to see the lean tools in operation and understand how they are used
Debriefing / feedback session allowing participants to ask questions, make comments and share their ideas with the host company.
Costs
No participation costs, but participants will have to cover their travel and accommodation costs. The EU-Japan Centre will cover the costs of the venue for the group discussion, the group dinner and the coach from the hotel to the host company and (after the visit) onto the airport.
Eligibility
Lean in Europe visits are only open to people working for companies and organisations registered in one of the EU27 member-states or (under the SMP COSME strand) in Iceland, Liechtenstein or Norway.
Previous Lean in Europe visits
During the first wave of Lean in Europe visits (organised between 2013 and 2019), 26 separate visits were organised to 29 companies with 603 people taking part.
Two visits were scheduled but were cancelled because of the covid crisis - to Tetra Pak (Sweden) and to SkiBeat at La Plagne (France). The last eight visits to actually take place were visits to BMW Group Plant Berlin; a double visit to Pneu Laurent and SKF Slewing Bearings (France); Applus+ IDIADA (Spain); a double visit to the Škoda Lean Center and to LEGO Production s.r.o. (Czech Republic); and single visits to Amorim & Irmãos (Portugal), Toyota's Deeside Engine Plant (UK), GKN Driveline Zumaia (Spain) and TRUMPF (Germany). Click here for details of all past (and postponed) visits.
Other resources to help you on your lean journey
"Lean in Europe" is just one of a range of lean activities the EU-Japan Centre offers.

  Find out the connection between lean tools and Japan and learn about our various lean activities in this 4-minute video.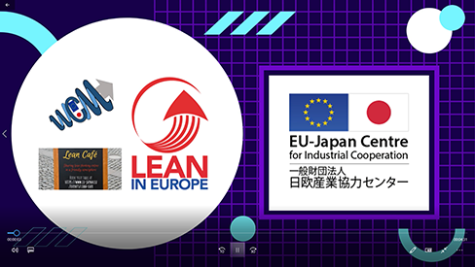 The Lean Café - monthly online group discussions of lean issues and the sharing of ideas and best practice.
Our Lean Masterclass - a series of 8 video lectures by Richard Keegan, recorded in 2016 and focus on "Getting things done". In addition to watching/downloading the lectures you can also request copies of the presentation material and various publications written by Richard.
Our World-Class Manufacturing course in Japan - twice-yearly week-long training missions physically or virtually in Japan, providing an in-depth analysis of Japanese manufacturing methodology, consisting of lectures, workshops and visits to some of the world's most advanced Japanese factories in order to understand the real "Gemba" (production site), talk directly with their production managers and observe the effective implementation of manufacturing methods.
Europe