New helpdesk for EU-Japan business cooperation with ASEAN, Africa and Latin America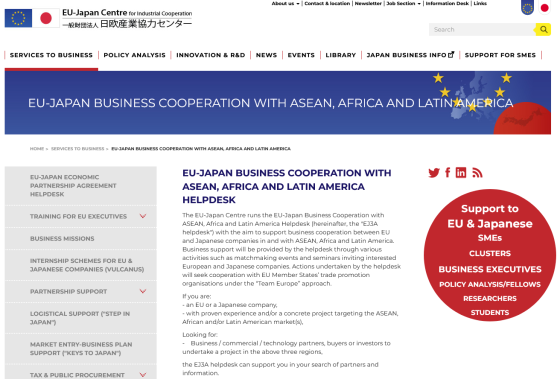 In April 2022, the EU-Japan Centre for Industrial Cooperation officially launched a new helpdesk for EU-Japan Business Cooperation with ASEAN, Africa and Latin America (EJ3A). The objective of this helpdesk is to support the connection between EU and Japanese companies for joint projects in and with these three regions.
Business and information support will be provided by the helpdesk through various activities such as the organisation of matchmaking events and seminars.
If you are an EU or a Japanese company, with pre-existing experience or a concrete project targeting the ASEAN, African or Latin American market(s), and if you are looking for business / commercial / technology partners, buyers or investors to undertake a project in the above three regions, the EJ3A helpdesk can support you in your search of partners and information.
More info.