Enterprise Excellence Ireland 2018
On 23 May more than 900 people took part in the Enterprise Excellence Ireland 2018 lean management conference. The event featured two panel discussions, 32 case studies, a workshop and networking opportunities. It brought together participants from finance, technology, retail, manufacturing, construction, automotive, public and the services sector to learn and share together to spread understanding of Lean and Enterprise Excellence.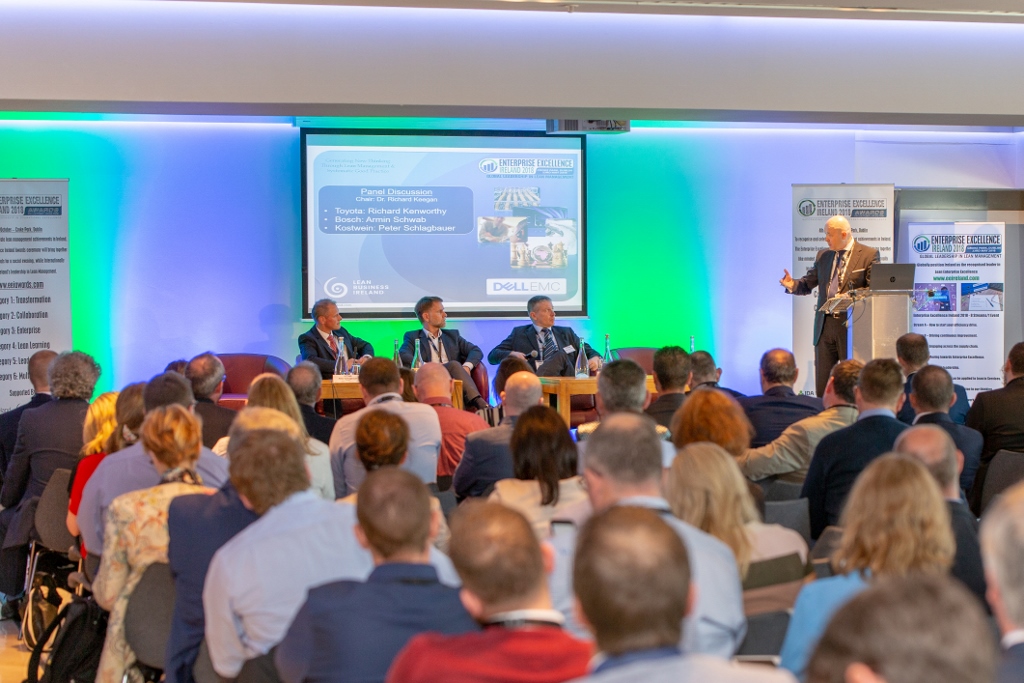 Peter Schlagbauer (Kostwein Maschinenbau GmbH) Armin Schwab (Bosch Thermotechnology) and Richard Kenworthy (Toyota Motor Europe) listen to Richard Keegan (Enterprise Ireland; Trinity College, Dublin and lean advisor to the EU-Japan Centre) during the plenary discussion on 'driving improvement and competitiveness in a digital age'
Hosted by Lean Business Ireland, the event was primarily designed to assist Irish organisations in adopting Lean principles, create more value for their customers and increase productivity and competitiveness on the world stage. With speakers and participants from Ireland, Europe, Japan and beyond the event looked at the latest management philosophy that pursues the continuous elimination of waste in all business processes though the journey of Lean Management and incremental improvement. Click here for the event agenda.
10 of the case studies were by companies that have taken part in the EU-Japan Centre's lean activities including WCM and Lean in Europe, either as participants or as hosts (ABTRAN, Bosch Thermotechnology, DHL Supply Chain, Diageo, FCA, Keelings Retail, Prodieco Ltd., Schaeffler, Toyota and Volkswagen.). The EU-Japan Centre also arranged the participation of Ichiro Tsujino from Osaka Prefectural Government who explained how Osaka is encouraging local SMEs to embrace digitalisation. The afternoon plenary discussion on "Driving improvement and competitiveness in a digital age" was organised in conjunction with the EU-Japan Centre and followed up on discussions during a September 2017 EU-Japan Lean Summit.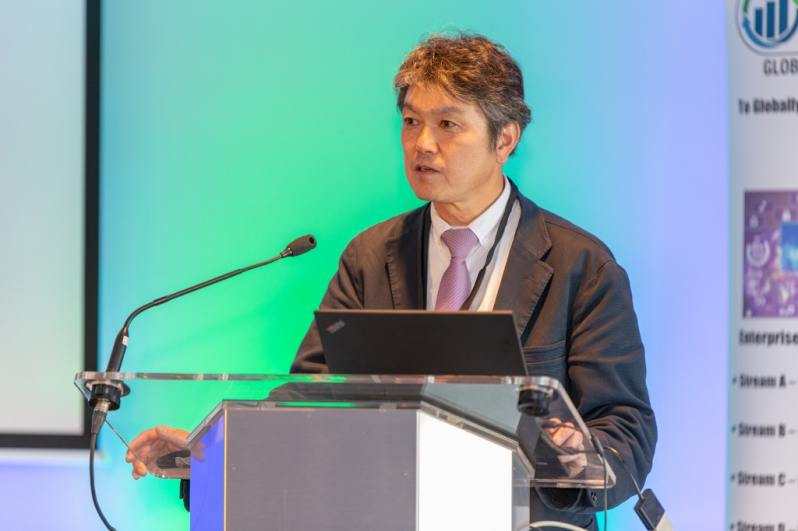 Ichiro Tsujino from Osaka Prefectural Government
| | |
| --- | --- |
| Julie Sinnamon (CEO of Enterprise Ireland), Heather Humphreys (Minister for Business, Enterprise and Innovation) and Martin D. Shanahan (CEO of IDA Ireland) | The event was supported by IDA Ireland, Lean Business Ireland, Enterprise Ireland and Dell EMC and managed by BoxMedia. It was opened by the Irish Minister for Business, Enterprise and Innovation, Heather Humphreys TD, who said, "The Government understands that the adoption of 'lean' business practices is central to achieving enterprise excellence. Without a doubt, it enhances the competitiveness of our enterprise base and therefore our economy". |
| | This was the second Enterprise Excellence Ireland event. Between 2004 and 2015 similar events were organised by Enterprise Ireland and the EU-Japan Centre. |
Photographs by Russell Taylor Photography
Croke Park
Policy seminars
In Europe