EPA Helpdesk Webinar 10: Rules of Origin
19-11-19 | 10:30 - 11:30 AM CET
What to know before starting trade exchanges with Japan?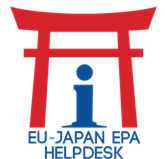 Even if you already export to some FTA-countries, you will need specific information if you intend to have trade with Japan as the EU-Japan EPA is very different from the other trade agreements concluded by the EU.  This presentation will present you what to start with, and will put the focus on the main differences with former agreements. In addition, this webinar will analyse the best and the easiest way to put into practice the EU-Japan EPA and will also provide some useful links with trustworthy information.
This webinar is part of a series of webinars by the EU-Japan EPA Helpdesk. Each webinar will address a different topic or sector and will look at the changes the EU-Japan Economic Partnership Agreement will make and the opportunities it will create. Each webinar will be accompanied by a factsheet and a practical guide. For more information on the EPA Helpdesk please click here.
The webinar was targeted to European companies seeking to put, administratively, everything in place before exporting to Japan.
Topics covered:
Where to find the legal basis of the EPA between the EU and Japan
How to fill in the application form to obtain the status of "Registered Exporter"
The different possibilities of proof of origin
How to issue the origin statement
What origin criteria codes must be mentioned in the origin statement
The cumulation possibilities with Japan
The layout of the Product Specific Rules (sufficient working rules) and the signification of the different abbreviations
Where and how to check the import duties on preferential origin goods.
Useful and trustworthy Web-links
Speakers: Roger Teney, Fiscal expert - Belgian Customs and Excise Administration
Organiser: EU-Japan Centre for Industrial Cooperation - Brussels Office
To Register please click here.