Get ready for Japan
"Due to the current global health situation, the EU-Japan Centre for Industrial Cooperation replaced its 2-week physical programme in Japan by a 2-week online programme. The objective of this programme remains the same: helping participants to get an in-depth understanding of how to do business in Japan. Participation is free of charge."
Are you a Start-Up or a SME (small medium enterprise)?
Do you wish to gain in-depth insight into the Japanese business environment?
Do you require a better understanding of your Japanese partners/competitors?
Do you need to learn more about Japanese management practices?
Are you about to be transferred to Japan?
Are you considering venturing into the Japanese market?

GRFJ video: Everything you want to know in 4 min about our 'Get Ready For Japan' training!
✅What is it?
✅Who are the beneficiaries?
✅When is it organised?
✅Where to get detailed info?
✅ How to apply?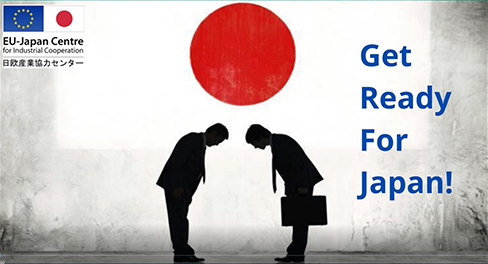 >
ABOUT THE MISSION
Since 1987, more than 600 companies across Europe have benefited from knowledge and concrete tools for better approaching the Japanese market thanks to the Centre training programmes.
The 2-week 'Get Ready for Japan' scheme offers EU managers the unique opportunity to experience and understand both the cultural and economic elements which define and explain Japan's business and technological achievements. Continuously improved to meet the latest expectations about business in Japan, the Get Ready for Japan provides EU businessmen with a professional Japan-related expertise.
It is focused on business management and consists of a combination of lectures, virtual case studies and  meetings. This is designed to help participants become thoroughly informed about the actual conditions of Japanese business through practical analysis and research. Participants will have the opportunity to discuss with Japanese managers about decision-making, team management methods in Japan.
PARTICIPANT PROFILE
Typical participants:
- Start-Up or SME
- have a major role in defining and implementing their companies' policies vis-à-vis Japan,
- are to be transferred to Japan,
- come from companies intending to supply Japanese companies,
- wish to learn about management practices and technological developments in Japan.
ELIGIBILITY
The candidate must:
- be a citizen of an EU Member State or of a COSME partnering country(*);
- work for a company that is > 50% EU or COSME partnering country owned;
- work for an organisation that is an EU or COSME partnering country juridical person;
- be supported by their employer and be able to participate in the entire programme;
- have a reasonable command of English;
- be a manager or an executive from an industrial company;
- have proven experience in industry.
NB/ Participants from SMEs will be selected in priority. SMEs (small and medium-sized enterprises) are companies meeting the standard European Commission criteria for an SME.
SELECTION

The main criteria for selection are:

- the strategy of the participant's company regarding Japan

In order to ensure a high degree of personal attention, the number of participants is limited to 14 participants
PROGRAMME OBJECTIVES
The purpose of the mission  is:
- to acquire a broad understanding of the Japanese business environment, business practices and Japanese-style personal communications in order to find ways to do successful business through a partner relationship;
- to become aware of the decision-making process inside Japanese companies and therefore gain a better understanding of their negotiation style and hierarchy;
- to give the opportunity to reinforce relationships with current Japanese customers and facilitate contacts with future ones.
Deposit (applicable to SMEs) / Guarantee (applicable to non-SMEs)
The Centre will not retain any deposit/contribution for this year online training course.
Grant for SME
The grant is an amount of money (1200€) offered by the Centre to SME participants only to support their travel charges. Because this year's  programme is online the grant payment is not applicable.
(*)  Please check the status of your country at https://ec.europa.eu/info/funding-tenders/opportunities/docs/2021-2027/smp/guidance/list-3rd-country-participation_smp_en.pdf, Please only refer to the sub-paragraph: "COSME strand (SMP COSME)".
SMP-COSME: Stands for "Countries Participating in the COSME strand of the Single Market Programme". The Single Market Programme is the Commission programme that funds the EU-Japan Centre.
Japan