Opportunities for EU & Japan Industrial and Innovation Cooperation in the Circular Economy for Strategic Metals
With the EU and Japan seeing the circular economy as a key tool for achieving resource efficiency and net-zero GHG emissions by 2050, this BJA Innovation, Partnerships & Trade Committee and EU-Japan Centre for Industrial Cooperation webinar aimed to build a bridge between the EU and Japan to share initiatives and strategies to realise circular economies.
The webinar took place on 23 June 2022 and had 319 attendees (not including speakers, etc.). It focussed on the circular economy of strategic metals used to decarbonise energy and mobility and addressed the opportunities for EU-Japan industrial and innovation cooperation. It brought together policymakers, researchers and industry figures to identify the EU and Japanese policy instruments and industrial innovation methods that will nurture their circular economies for strategic metals and help the EU and Japan achieve the green transition.
Session recording

  Click here to watch the session recording, to download it - right-click it and select "save file as".
Photos
More photos can be found on this BJA webpage.
Agenda and presentations
OPENING REMARKS

PANEL 1 - The view of the European Commission and Government of Japan
DG GROW (European Commission) – Mr Peter Handley, Head of Unit, Energy Intensive Industries – Raw Materials
Ministry of Economy, Trade & Industry (METI) – Mr Kazuaki Kobayashi, Director, Mineral and Natural Resources Division, Natural Resources and Fuel Department, Agency for Natural Resources and Energy (Presentation available)
Delegation of the EU to Japan, Ms Nevena Mateeva, First Secretary, Trade Section (Presentation available)
Ministry of the Environment, Ms Minako Kageyama, Deputy Director, Industrial and Hazardous Waste Management Division, Environment Regeneration and Resource Circulation Bureau (Presentation available)

PANEL 2 - The role of innovation and circular economy ecosystems
Mr Frédérik Verhaeghe, Research Fellow, Umicore Corporate R&D and Flanders Metals Valley

(Presentation available soon)

Mr Philippe Giaro, Senior Research Officer, Georesources, Minerals Engineering and Extractive Metallurgy, University of Liège, and Reverse Metallurgy Platform (Presentation available)
Mr Toru Nishiyama, Principal Visiting Researcher, Institute for Global Environmental Strategies (IGES), J4CE Secretariat, Japan Partnership for Circular Economy (Presentation available)
Mr Christian Leroy, Board Member – Processes4Planet and Head of Innovation – European Aluminium (Presentation available)

Q&A AND CLOSING REMARKS
With all speakers, moderated by Fabrice Stassin
Background to the event
Full agenda (pre-event version) available here.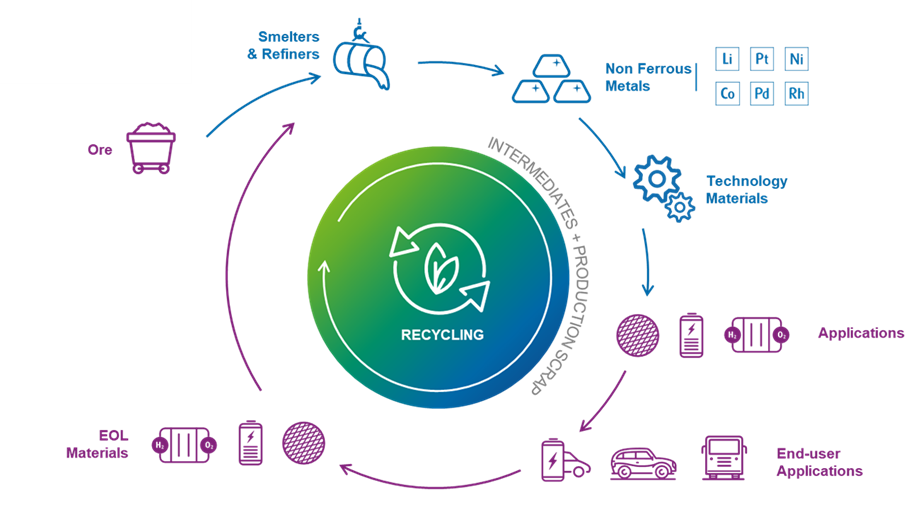 In "The Case for Circular Economy" article in the June edition of the BJA's "Trade Flows" newsletter, Dr Fabrice Stassin (Director, Government Affairs Electromobility Projects & Coordinator for Asian Affairs of Umicore and BJA IPT Committee Chair) explains how the circular economy will help achieve the green & digital transformation in Europe and beyond.
Circular economy and the EU-Japan Green Alliance
'Circularity' underpins the 2021 EU-Japan Green Alliance agreed by Charles Michel, European Council President; Ursula von der Leyen, European Commission President; and Yoshihide Suga, Prime Minister of Japan. They agreed to deepen the EU-Japan "policy dialogue and cooperation on supply chain sustainability, circular economy and resource efficiency" and to collaborate in multilateral frameworks to seek "concrete action in support of a global just transition to a climate neutral, resource efficient and circular economy". The EU and Japan also agreed to "cooperate to develop principles on circular economy and resource efficiency for stakeholders such as businesses and investors".
The Green Alliance also referred to the EU-Japan Centre for Industrial Cooperation as a facilitator to build EU-Japan business cooperation, including to further promote business cooperation in third countries' markets. These commitments build on previous actions to boost EU-Japan cooperation on circular economy issues including an EU 2018 Circular Economy Mission to Japan, and on EU and Japanese actions to promote domestic circular economies and on EU and Japanese actions to address the sustainability of resources. A 2020 EU-Japan Centre Minerva report – "Japan's circularity : A Panorama of Japanese Policy, Innovation, Technology and Industry Contributions Towards Achieving the Paris Agreement" gives an overview of Japan's circular economy strategy.
Circular economy, supply chain issues and the post-Covid recovery
As the roll-out of clean energy and mobility technologies (batteries, PV, windmill magnets, electrolysers, fuel cells, etc.) to decarbonise society and achieve climate neutrality by 2050 accelerates, pressure on the 'strategic metals' used in cleantech is increasing. Many countries see securing the availability of these critical raw materials as key to ensuring their strategic autonomy and the resilience of their post-covid industrial strategies. International agencies, policymakers and industry recognise that a circular economy approach to the whole lifecycle (product development, process development, use, collection and dismantling) of clean energy and mobility technologies is vital.
Circular economy and EU-Japan leadership
The EU and Japan are strategic partners in many areas and share similar circular economy approaches – working with stakeholders to develop appropriate legislative framework, invest in innovation to find the best solutions and structure their industrial ecosystems along value chains.
This event is co-organised by: