Case study - SOCKSSS
SOCKSSS is a young Swedish company founded in 2019 by Sean Fry and Oscar Lund-Hansen. It is specialized in the fashion of socks. The mission of the company is to elevate socks to a full-fledged part of the outfit. To do so, SOCKSSS offers socks with an outstanding design, excellent quality, and sustainable materials. Nowadays, the company sells its luxury socks in 240 stores all over the world including 12 stores in Japan. Whereas many larger companies failed in Japan, SOCKSSS already makes 5-7% of their turnover in Japan and their made in Japan style socks amount for 20% of their global turnover.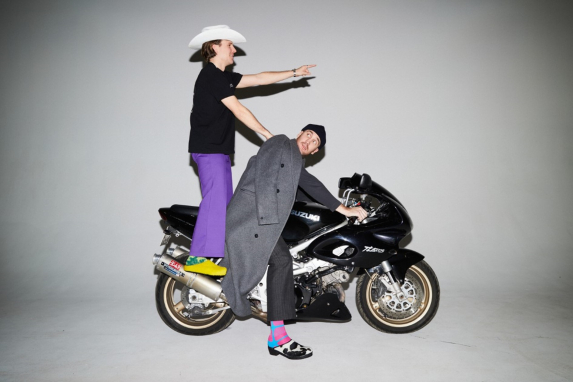 An Introduction
Mr. Fry, co-founder and in charge of the trade and business strategy, explains the secret behind their success from their new office in Stockholm. "From day one, we thought globally." Since they only sell one product, this global strategy was crucial, according to Mr. Fry. They also had to distinguish their product from companies offering series of products.
Thus, choosing the factory where they could produce their socks was of great importance. The quality and the materials used were two crucial criteria, as SOCKSSS had a strong preference for recycled and organic materials. Eventually, they found in Portugal their current partner who met all the requirements. Now, 3 years later, they sell their socks in 240 stores all over the world and have 3 employees.
Why Japan?
"We already had a considerable number of customers in Japan and in Asia. Since we wanted to reduce our CO2 emissions, we decided to search for Japanese partners to produce our socks in Japan itself."
Mr. Fry also explains that besides the CO2 emissions, this would reduce the shipping costs for their customers in Asia. Another important aspect of their choice for Japan was the quality. Japanese denim is worldwide seen as one of the best. "I did research on which factory would fulfill our requirements the most and we ended up in Nara (a city in the neighborhood of Osaka and Kyoto). Their machines are extraordinarily good, and the quality of the finished goods is extremely high. This allowed us to produce our Japan collection, which we offer for 39,99 euros per pair."
However, the customers did not react to SOCKSSS's new collection as they had expected. Interestingly, the 'made in Japan' socks were highly popular in Europe and North America. In contrast, the Japanese customers loved the socks that were made in Portugal. Today, SOCKSSS's made in Japan style socks amounts for 20% of their global turnover.
To be noted that, from the perspective of SOCKSSS (which is, the fashion industry) Japan is very influential. Many other countries in Asia are looking to Japan to make their own products.
Reception in Japan
Mr. Fry is very pleased with how his company was received in Japan: "Our Instagram page is very popular and people appreciate that we use local knowledge." With the help of sales agents, SOCKSSS has a show room twice a year in Tokyo. Currently, Japan represents between 5-7% of their turnover even though the company has only been operating in Japan for 1,5 years. Mr. Fry also mentions that "the EPA made it easier to search for partners in Japan. Japanese stores were more interested in collaborating with us."
SOCKSSS's Uniqueness
When asked what SOCKSSS's uniqueness would be to perform so well in Japan, knowing that many larger companies failed in Japan, Mr. Fry answers: "Our creativity, design and partners were central in our success. The design of SOCKSSS is very creative and it is one of the few companies that try to elevate socks to a full-fledged part of the outfit." Moreover, it appears that the customers really appreciate the good quality of their goods and recycled and organic-based materials. Furthermore, SOCKSSS only collaborates with luxury partners and dares to say no to partners who do not fulfill their requirements. Another thing that has contributed to their success, according to Mr. Fry, is that they focus on only one product.
The Challenge of Doing Business in Japan
For Mr. Fry, "the understanding of time was definitely the main challenge. The Japanese culture is slower and more considerate. Japanese companies approach things as a whole. For instance, if concluding a partnership takes 1 month in Europe, it takes 4 months in Japan." Japanese companies will also put more consideration into quality. "A defect in Japan is something different than in Europe or North-America."
However, SOCKSSS is very thankful for that. "Since it is done with more consideration, the outcome is even better in Japan," explains Mr. Fry. He praises the eye for details provided by Japanese companies, as this increases the overall value and will lead to a better outcome.
According to Mr. Fry, a crucial criterion to succeed in Japan is to understand the time and the customer in Japan. Indeed, it is very important to "take your time" for choosing your partners and to listen to people and to feedback.
Future Expectations
In the future, SOCKSSS would like to start collaborations with established Japanese brands and expand their network of retailers. They would also like to get more involved in the local communities.
Mr. Fry also says that they just started their online webshop in June 2022. While they used to only sell through their partners, they would now like to increase the online sales to around 50%. They also have another ambitious plan: "we would like to open a physical store in Tokyo, Paris or London within two years."
Text based on an interview with Mr. Sean Fry, Co-Founder of SOCKSSS, https://www.SOCKSSS.com/