On-demand public transport | Shotl X Odakyu Electric Railway
Odakyu Electric Railway, a major public transport company in Japan, established in 2019 a partnership with Spanish mobility start-up Shotl. Together, they are testing new on-demand transport services in the suburb of Tokyo, in order to reduce the need for individual cars and thus the emissions of greenhouse gases and air pollutants.

The partners
Odakyu Electric Railway, a major private railway company in Japan

Established in 1948 on the activities of a previous company that started railway operations in 1927, Odakyu Electric Railway is one of the 16 major private railway companies in Japan and a major player in the transportation industry. Odakyu Electric Railway carries every day 2.1 million passengers on its 120 kilometers long railway network. 11 of its 70 stations have a daily frequentation higher than 100,000 persons, including Odakyu's Shinjuku station in Tokyo. Odakyu also owns the largest bus fleet in Japan, and operates taxis. The company also developed activities in other domains such as retail and commercial, real estate, travel and hospitality, in synergy with its transportation activities. 
In the recent years, Odakyu has been particularly involved in the fight against climate change, through the development of new activities related to circular economy. The company also actively works on new shared mobility services to complement its current public transport offer, such as its Mobility as a Service (MaaS) application EMot. 
Shotl, a Spanish on-demand mobility platform provider

Founded in Barcelona (Spain) in 2017, Shotl is a mobility platform that empowers public transport operators to supply on-demand mobility services through a network of vans and small buses, contributing to reducing the carbon footprint of urban transport. With Shotl's platform, vehicles are dynamically routed in real-time through algorithms that match and pool travelers as per each origin and destination.  
The objective of the company is to provide a valuable option in areas where public transportation is often insufficient and highly subsidized, such as residential suburbs of large cities, business parks, airports or small villages. The platform can be applied to enhance accessibility for specific communities like school students or commuters with physical disabilities. As of January 2020, Shotl has licensed its technology to transport operators, municipalities and corporations in ten countries, having transported over 300,000 people.

The partnership: a new on-demand public transportation system for the areas around Odakyu's line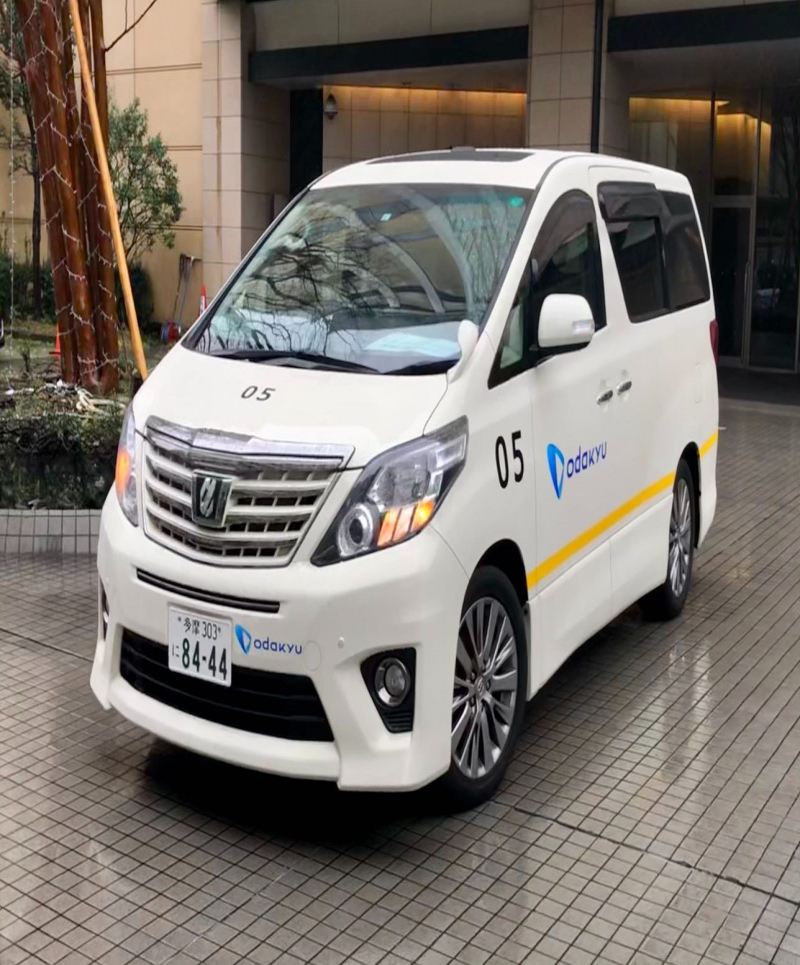 One of the cars used for the experiments (Source: Odakyu)
In 2019, Odakyu was looking for a partner for the development of a new on-demand public transport (shared transport system with route, stops and times adjusted in real time to the need of passengers expressed through a booking system). The Japanese firm heard about Shotl, whose system was already in operation in Barcelona. The two companies signed a Memorandum of Understanding in September 2019 for a joint demonstration project around Shin-Yurigaoka station in the western suburb of Tokyo. A first experiment took place between February and April 2020, during which up to 200 people were transported per day, free of charge. 
Another test is organized in 2021 to enable residents in an area centered on the station to get on and off at one of the 500 meeting points, by ordering and paying for their on-demand shared taxi via Odakyu's EMot app. The service was developed under the patronage of Ministry of Land, Infrastructure, Transport and Tourism, with the collaboration of Kawasaki City, Odakyu Bus, Kawasaki Hire and Kanachu Taxi.  
This partnership between Odakyu and Shotl contributes to the reduction of greenhouse gas emissions due to transportation, by providing a convenient and comfortable alternative to private car when traveling to the station. A survey among users of the service indeed showed that at least 40% of them would have used their personal vehicle in the absence of the service. Such service is also expected to contribute to the achievement of carbon neutrality and to preserve air quality for the following reasons: 
- In regions, the service could replace bus lines that are closed due to a lack of passengers, thus preventing residents from shifting to their own vehicles. 
- Japan's population is declining and ageing. With age, many citizens stop driving and switch to taxis or buses. Shared on-demand transportation offers them an equally comfortable but cheaper alternative, while optimizing the number of vehicles on the road and reducing the movement of taxis or buses without passengers.

Based on these first experiments, Odakyu will consider Shotl's on-demand system as one of its optimal solutions especially for suburban areas, and also as an alternative option in the secondary transportation business. Other projects of new mobility services are being deployed in Japan, several of them led in partnership with European companies providing innovative technologies and solutions.

More information