EPA Helpdesk Webinar 25: Rules of Origin
15-09-20 | 10:30 - 11:30 AM CET
What to know / do before starting trade exchanges with Japan?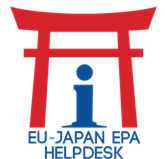 Even if you already export to some FTA-countries, you will need specific information if you intend to have trade with Japan as the EU-Japan EPA is very different from the other trade agreements concluded by the EU.  This presentation will present you what to start with, and will put the focus on the main differences with former agreements. In addition, this webinar will analyse the best and the easiest way to put into practice the EU-Japan EPA and will also provide some useful links with trustworthy information.
This webinar is part of a series of webinars by the EU-Japan EPA Helpdesk. Each webinar will address a different topic or sector and will look at the changes the EU-Japan Economic Partnership Agreement will make and the opportunities it will create. Each webinar will be accompanied by a factsheet and a practical guide. For more information on the EPA Helpdesk please click here.
The webinar is targeted to EU companies that do not have yet trade activities with Japan.
Topics covered:

Export to Japan - First steps
Differences with other free trade agreements
Speaker: Roger Teney, Fiscal expert - Belgian Customs and Excise Administration
Organiser: EU-Japan Centre for Industrial Cooperation - Brussels Office
For the past webinars' recordings and future webinar registration, please click here.