Here are details of previous "Lean Café" discussions. To watch a recording of the discussion (where available) please click on the relevant link.
To download a recording or a presentation file, right click on the link and select "Save Link As..." (or "Save Target As...").
For details of future visits and a general introduction to the activity please see the main Lean Café webpage.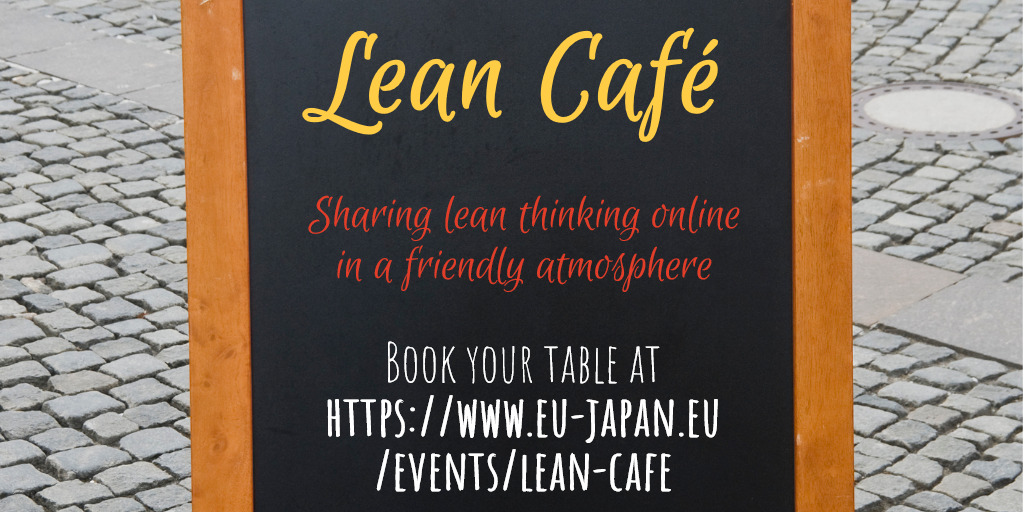 10/06/2022 - Lean Cafe #12 - Addressing supply chain issues and ensuring agile responses in a volatile environment
| 34 participants | featured company: TRUMPF Lasertechnik GmbH
Guest presenter: Philipp Schüll, Head of Order Fulfilment, Member of Management Board BU LT, Interim COO TRUMPF UK


  Session recording (MP4) | Slides (PDF)
20/01/2022 - Lean Cafe #11 - Lean in administration and innovation in the banking sector
| 36 participants | featured company: Raiffeisen-Landesbank (RLB) Steiermark
Guest presenters: Alexander Zerkowitz, HR Director and Hannes Meixner, Chief Intrapreneur (aka ZukunftsBauer) at Raiffeisen TATEN-Bank


  Session recording (MP4) | Alexander's slides (PDF), Hannes's slides (PDF)
14/10/2021 - Lean Cafe #10 - Group discussion around "Recapturing the pace of improvement and realigning at this phase of the Covid crisis"
| 24 participants | featured company: Mondelēz International
Guest presenter: Ian O'Toole (Associate Director of Enterprise Engineering)


  Session recording (MP4) | Slides (PDF)
23/09/2021 - Lean Cafe #09 - "Applying WCM tools and principles across an organisation to create a world-class company"
| 32 participants | featured company: CNH Industrial
Guest presenters: Fabio Piccinelli, Francesco Russo & Magali Buclon (all WCM Senior Specialists)


  Session recording (MP4) | Slides (PDF)
01/07/2021 - Lean Cafe #08 - "Making Digital Transformation and Lean work in harmony"
| 38 participants | featured companies: SpoluWorks and Effectivity
Guest presenters: Ota Horak (General Manager, SpoluWorks) & Gabriela Kopřivová (Senior Lean Consultant & Managing Director, Effectivity s.r.o.)


  Session recording (MP4) | Slides (PDF)
27/05/2021 - Lean Cafe #07 - "Lean Logistics with Lyreco"
| 47 participants | featured company: Lyreco UK & Ireland
Guest presenters: Ade Oyedeji (Continuous Improvement Manager); Nick Dacey (Supply Chain Director); Richard Taylor (Head of Operations) & Peter Gojka (Building Service Manager


  Session recording (MP4) | Slides (PDF)
25/03/2021 - Lean Cafe #06 - "Strategic Development of an Organisation's Capability"
| 52 participants | featured company: National Treasury Management Agency
Guest presenter: John Maxwell, Head of Continuous Improvement


  Session recording (MP4) | Slides (PDF)
18/02/2021 - Lean Cafe #05 - "'Lean is being made too confusing for its own good!', a discussion"
| 60 participants | featured company: Opex Performance Solutions Ltd
Guest presenter: Kevin Robinson, Managing Director


  Session recording (MP4) | No slides (PDF)
03/12/2020 - Lean Cafe #04 - "Driving lean activities through WCM with a customer oriented focus, while adapting to the new normal"
| 55 participants | featured company: Tetra Pak Processing Systems AB
Guest presenters: Carlos Ortiz (OpEx & WCM Director), Emma Årman (WCM Champion), Christian Tage (WCM Champion) & Dirk Desiron (System Architect)


  Session recording (MP4) | Slides (PDF)
29/10/2020 - Lean Cafe #03 - "Show and tell about how the Japanese set up the Gemba"
| 37 participants | featured company: Shinka Management
Guest presenter: Paul Smith (Director)


  Session recording (MP4) | No slides (PDF)
17/09/2020 - Lean Cafe #02 - "Lean Launch - Implementing Lean in a disruptive environment"
| 64 participants | featured company: Jaguar Land Rover Limited
Guest presenter: Heiko Gierhardt (Director Launch - Global Programmes and Operations in Purchasing and STA)


  Session recording (MP4) | Slides (PDF)
16/07/2020 - Lean Cafe #01 - "A coffee with Toyota"
| 57 participants | featured company: Toyota Lean Management Centre
Guest presenter: Mike Luff (Section Manager)
No recording (MP4) | No slides (PDF)