September 29
2022
September 30
2022
Lean in Europe - visit 27 - PakMarkas
| | | |
| --- | --- | --- |
| | The on-site Lean in Europe visit to PakMarkas in Vilnius (Lithuania) will take place on Friday, 30th September 2022. A pre-visit meeting and dinner will be held on the evening of 29th September. | |
"Genchi, genbutsu gennin" (現地・現物・現認) translates as "go to the Gemba" but means going to the 'real place' where value is created, where interactions are happening between process and material, and engaging with the people.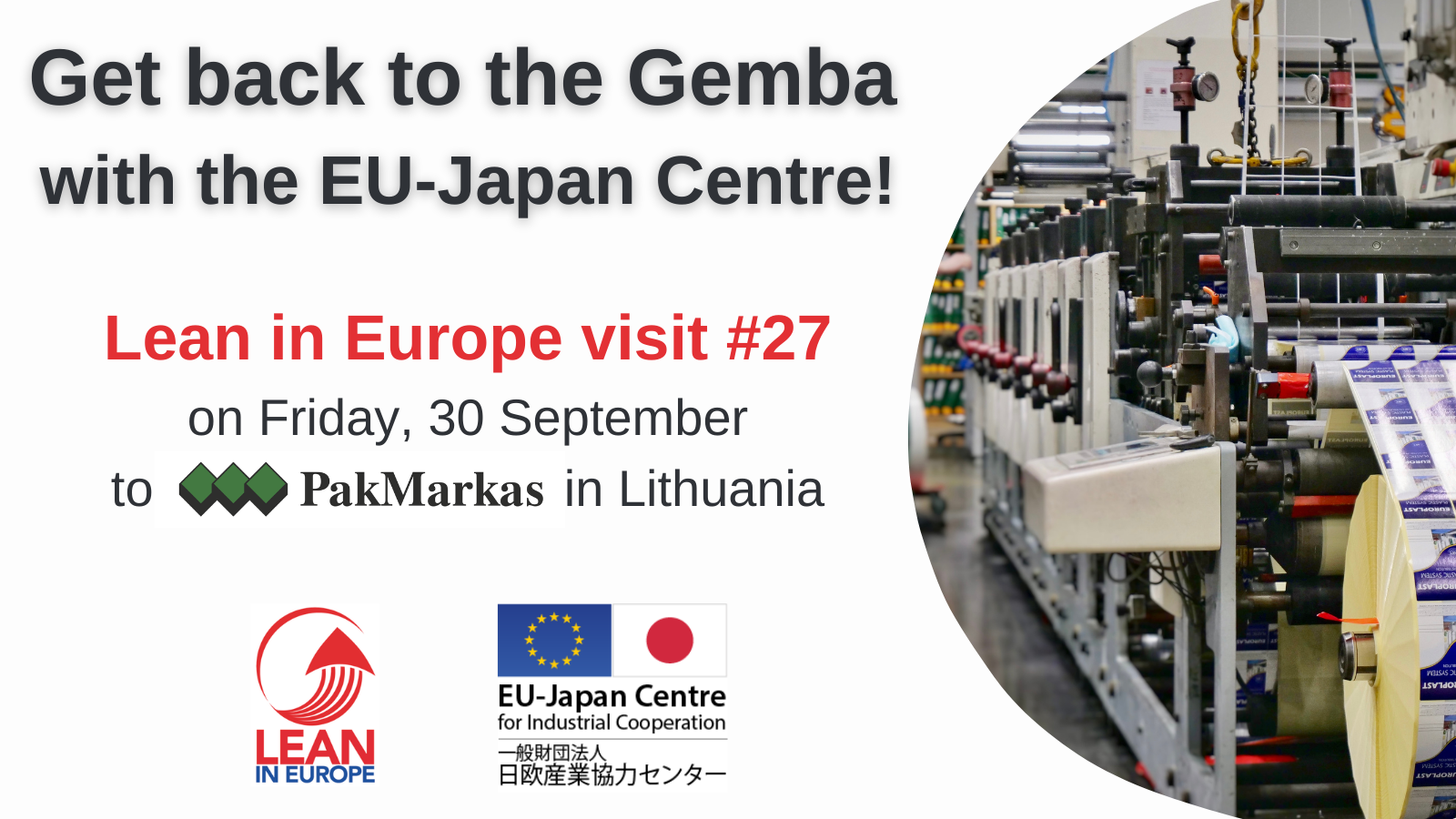 The first host company in this new series of Lean in Europe physical visits (i.e. travel will be necessary) will be PakMarkas – a Lithuanian manufacturer producing labelling and flexible packaging, industrial packaging engineering and automation solutions.
Registration for places for this visit has closed. Please contact lean@eu-japan.eu if you have any questions about this visit.
The visit will be led by Richard Keegan, the EU-Japan Centre's Lean Advisor and Adjunct Professor of Lean Operational Excellence at Trinity Business School in Dublin. Places are limited.
Covid-permitting, the EU-Japan Centre is delighted to be able to restart physical Lean in Europe visits to learn, see, understand and share best practices by visiting European factories and facilities. The EU-Japan Centre will continue to run Lean Café webinar discussions but on an occasional basis.
Draft Agenda:
Thursday, 29 September 2022
p.m.  Arrive at Vilnius airport (VLN), individual transfer to the group hotel
(17:30) Pre-visit lean group activity, for visit participants and PakMarkas representatives
(19:30) Networking dinner
Friday, 30 September 2022
(08:30) Leave the hotel (by coach) for PakMarkas
(08:50) Arrive at PakMarkas (Minsko pl. 95, Daržininkai, Vilniaus r.)
(09:00) Visit to PakMarkas begins
Introduction to PakMarkas

Gemba walk #1 – visual introduction

Group lunch
Presentation of the problem
Gemba walk #2 – observe the process
Practical problem solving session and suggestions (in groups)

  o Group A: Changeover process of flexo-printing machine
The issue – too long changeover times currently averaging around 25 to 30 minutes (depending on the complexity). PakMarkas would like to optimise and shrink changeover times further.

  o

Group B: Observe packaging process of finished product


The packaging process has not been properly analysed yet and there could be considerable potential for improvements.
 

Feedback and reactions from PakMarkas

Full group debriefing exercise led by Richard Keegan
(16:00) Visit to PakMarkas ends - coach transfer to airport for evening flights via major European hub airports
Eligibility and target participants:
You have responsibility for process management / improvement and/or are an engineer
You work for a company or organisation in an EU27 member-state or in Iceland, Liechtenstein or Norway
You use – or plan to use – process optimisation and lean management tools in your business and would like to engage with the group and with PakMarkas
Your line manager supports your application
This visit is open to all sectors of activity (manufacturing, services, etc.)
Your nationality is not important
Applications from direct local competitors will not be accepted
Costs:
No participation fee, but your organisation must cover your travel and accommodation costs.
In the unlikely event that the visit has to be postponed / cancelled / coronavirus rules prevent you from taking part, the EU-Japan Centre will not be liable for your travel / accommodation / other costs.
More information and future visits:
Other visits will be arranged for later in the year, please contact lean@eu-japan.eu if you have any questions about this visit, would like to get details of future visits when they are arranged, or think your company/organisation might be willing to host a Lean in Europe visit for us.
PakMarkas